ㅇ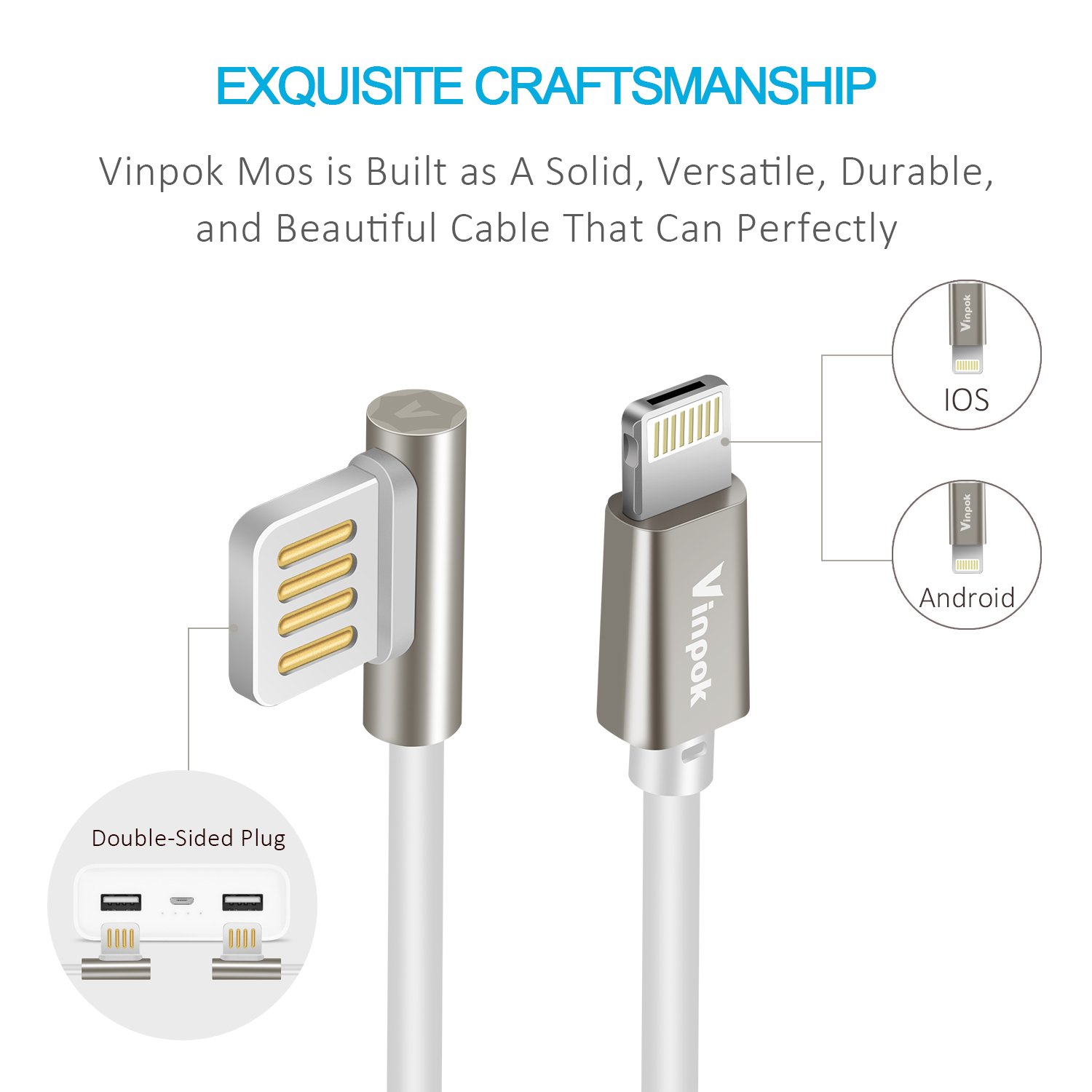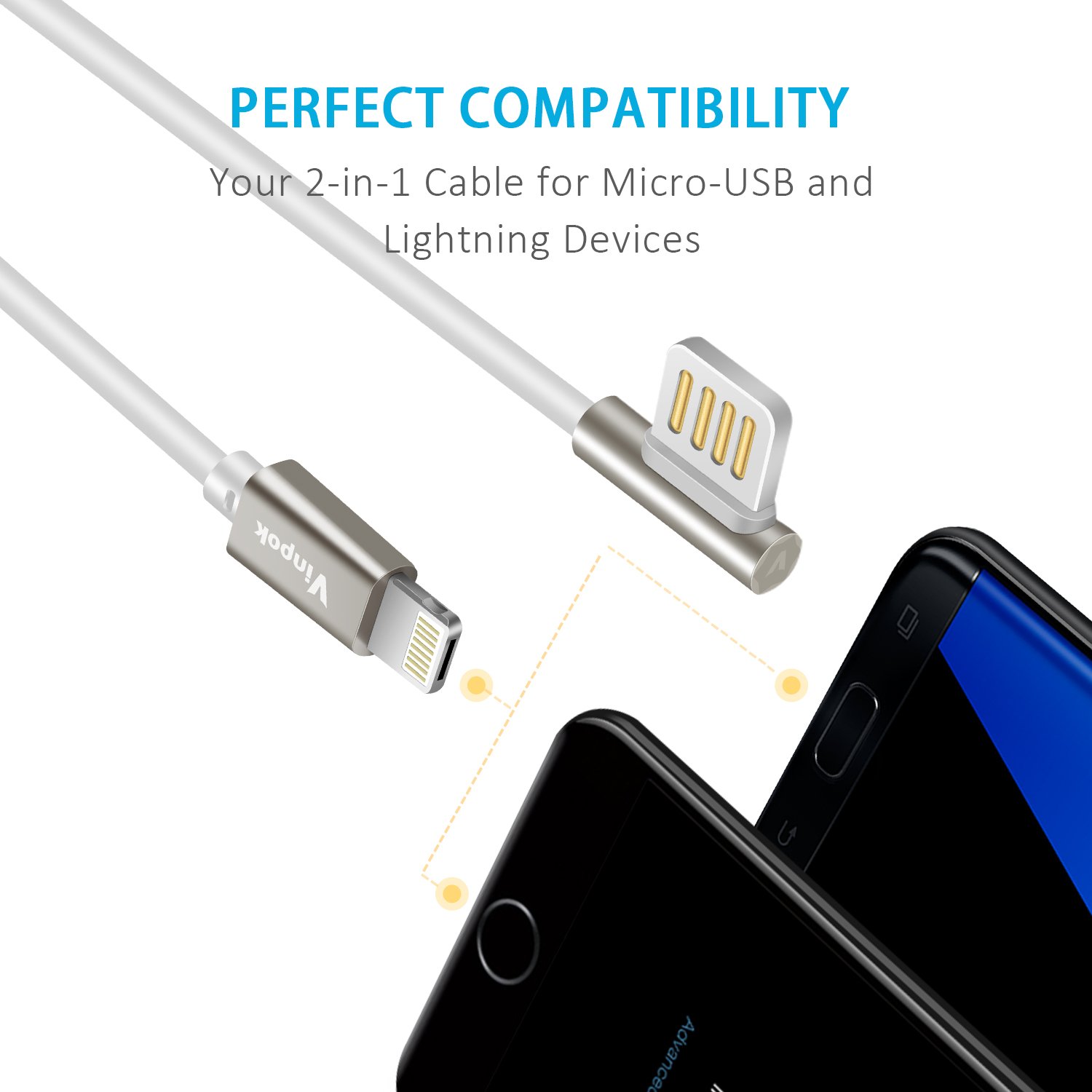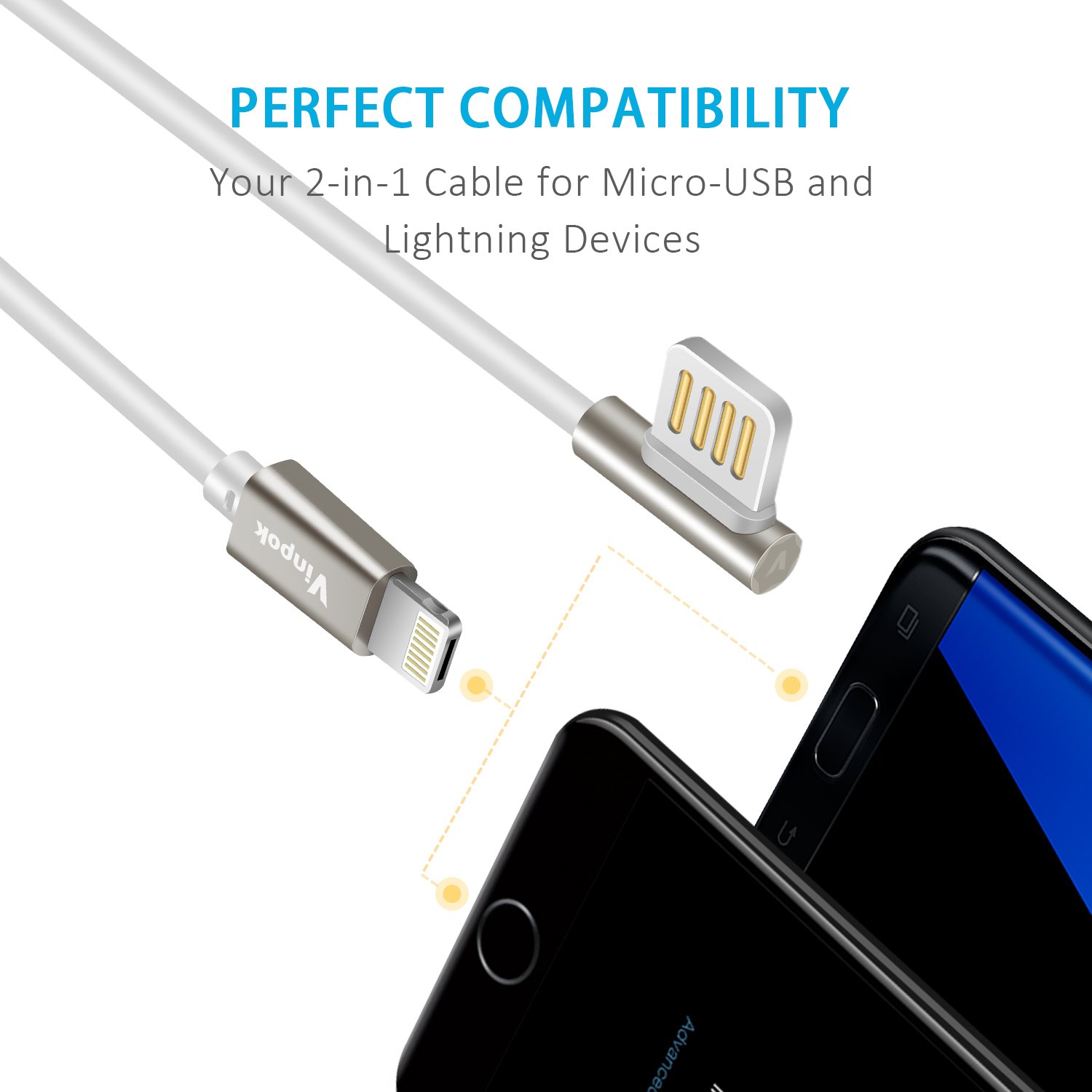 Your 2-in-1 for Micro-USB and Lightning Devices.
Often hear people ask: do you have an android charging line? Is there an apple charging line?The worst thing is that when your phone is out of power, you find that you only have the charging head, but no charging line. Then you ask the people around but was told by that there's no data cable suit for you.That was a really a sad moment.To solve the user's annoyance Vinpok designed several data cables that both support Android and iPhones.
· 2-in-1 Cable
Vinpok Mos is specially designed for both IOS and Android devices.
It combines the function of Lighting and Micro-USB into one common connector which can make charging easier.As the picture shown, one side of the connector is for lightning devices(iPhone, IPad, iPod,etc.).While the other side is for Micro-USB devices.(Android, external charger,etc.), is designed with a reversible plug for easier plugging.If you have it, you don't need to carry a lot of wires in your bag anymore.
· No knot, save space
A messy winding line not only makes you annoyed but also greatly reduce your productivity.To this end, the material of the Mos we chose is not easy to curl as well as not easy to knot,
So that it will be convenient and quick for the user to get it out when they need it.And the "L" font design is adopted to make the line close to the edge of the charging port to reduce the space occupied by the line, which makes your desk looks neater, simple and comfortable.
· Does it work?
Some people may wonder if it really can be used.Don't worry, after testing, It has the same functions as normal cable, supports charging as well as data transmission, the speed of transmission was also unaffected.Do you have a crush on such a great design? Vinpok Mos have black and white colours currently, both are elegant and generous.
It only costs \$14.99 to buy the cable for two USES,
· MULTI-FUNCTION : Vinpok Mos 3.3ft 2 in 1 cable USB supports charging process as well as data synchronization. Lightning micro usb cable is specially designed for both iOS and Android devices. One side of the connector is for lightning devices (iPhone, iPad, iPod, etc.) while the other side is for Micro-USB devices (Android phone, external charger, etc.). 2 in 1 lightning and micro usb cable saves you a sum of money and brings much convenience.
· ECO-FRIENDLY DESIGN : TPE exterior is more flexible, which can prevent knotting. It can handle extreme temperatures and protect against aging from sunlight.
· SAFE CHARGING : Bulit in high purity oxygen free copper inner core will keep the cable from heat, ensure the device in safe condition when it is charged.
· INNOVATIVE "L" DESIGN : By applying the unique "L" design, Vinpok Mos helps to increase the cable's lifespan, and makes your desk neater.
· LIFETIME WARRANTY : ILDOCK strongly believes in our products, so we provide you with LIFETIME Warranty.
고객센터 02-2088-1520
배송안내
전국 배송이 가능하며, 토요일과 공휴일을 제외하고 평균 2~3일 소요됩니다.
도서지역은 2~4일 지연될 수 있으며 배송비가 추가 될 수 있으니 이 점 양해하여 주시기 바랍니다.
교환/반품 안내
고객변심 및 주문착오에 의한 교환/반품은 제품 수령일로부터 7일 이내 가능합니다.
불량제품 또는 제품에 의한 문제 발생 시 전액(해당제품) 교환/환불해 드립니다.
(단,상품 수령일로부터 7일 이내)
교환 및 반품시에는 배송된 포장박스와 포장재를 사용하여 그대로 복원해 주시기 바랍니다.
교환 / 반품이 불가한 경우
-제품 또는 사은품을 개봉하여 상품이 훼손되었거나 일부가 분실된 경우
-교환/반품 가능기간을 초과하였을 경우
-기타 사용자의 과실이 인정되는 경우

교환 / 반품이 가능한 경우
-고객 변심에 의한 교환 및 반품 시 발생되는 배송비는 고객님 부담입니다.
-교환 시:반송비+재발송비 = 5,000원
-반품 시:초기 배송비(무료배송 포함)+반송비 = 5000